Why do People Buy Copper Pennies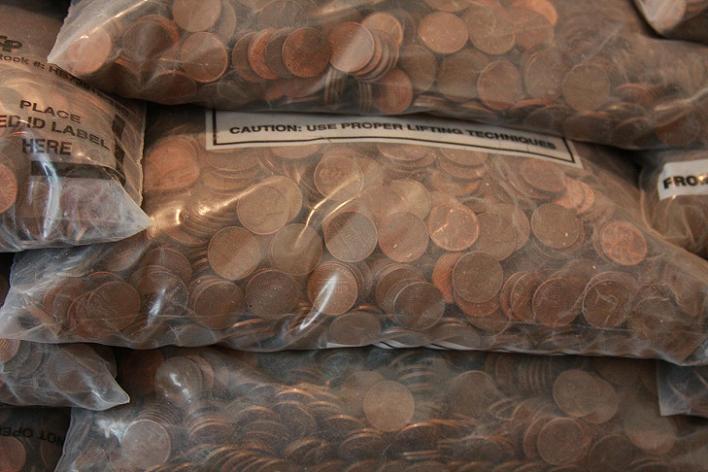 Six reasons to buy copper pennies
1. Copper is useful




Copper is a highly desired industrial commodity useful in society. Learn more about what makes copper valuable.
---
2. The penny is easily recognized




The copper penny is a widely known and easily recognizable. This means that when you see a penny, you can easily self-determine is not a fake and know it was minted by the United States. It is a known fact that all copper pennies are 95% pure copper. Therefore, the metal content can be easily calculated without concerns over purity of the copper itself.
---
3. Copper trends outpace inflation




Copper is historically known to out pace inflation. Therefore, as prices rise, copper rises higher, making your investment highly inflation resistant.
---
4. Copper Pennies holds intrinsic value




The copper penny can be bought with U.S. dollars. The dollar is heavily devalued over time due to constantly printing more dollars by the Fed, U.S. government, etc. Whether you want to call it printing money, quantitative easing, or more recent political terms like "the twist," the result is the same: A devalued dollar. As the value of your dollar drops, your purchasing power drops. This devaluation means as time progresses, it takes more dollars to buy the same thing you bought yesterday, because a devaluing dollar means the item you want to buy inflates in price. A dollar bill is made of paper and ink paper is easy to come by while the ink can't easily be re-used so holds little value. Your online bank account is virtual and holds no physical value. The copper penny is made of 95% copper, so it has intrinsic real use in society. The copper could be used for all sorts of industrial uses, and thus has a physical value. What is more useful in trade:



versus

a 1 dollar bill made of paper and ink or 100 copper pennies weighing .68 pounds of useful metal material?

Think of it this way: What is the intrinsic value difference between a 1 dollar bill and a 100 dollar bill? They're both paper. One has more ink on it than the other. Therefore, the difference is the cost of ink of adding two zeros to the paper. A penny, however, has a real use. The dollar bill only has a use if it is used as a medium of exchange for buying and selling goods. And this use only exists as long as people are willing to accept use of the dollar. Will Greece still use the Euro? How valuable is the Euro in Greece if no one believes the Euro will buy them anything? These are difficult questions. We constantly hear advice of "never keep all your investment eggs in one basket." So diversifying stocks, mutual funds, CDs at the bank, perhaps some cash under the mattress and various other things is what you do. But if every last investment you have is in U.S. dollars or can only be withdrawn in U.S. dollars, then you have all your eggs in one basket: the U.S. currency. If it were to fail, you could potentially lose your entire investment portfolio no matter the individual vehicle. If the U.S. dollar fails, a copper penny will simply lose the term "penny" and exist as copper, which holds value as a true physical and tangible asset.
---
5. Penny floor investment





Your copper penny will always be worth at least one penny. Unlike copper ore or copper bullion, your penny is minted in a currency, which means it has an investment floor value or insurance policy that it will be worth a penny as a worst-case scenario option. A stock in the stock market can reach zero. Your penny cannot. This gives the copper penny a distinct investment advantage.

---





6. Copper Pennies are a niche market





It is currently illegal to melt pennies or export pennies outside of the United States. This is a serious advantage. At first, one would think this is a disadvantage as that means you can't get the copper out of your penny to get full melt value (the value of copper on the open exchange market). But this is actually an advantage to the buyer. The seller can't sell at melt value, meaning the buyer can buy into the copper market below copper spot price, meaning below the actual value of copper giving vast savings to the buyer. When the penny eventually becomes legal to






melt, the buyer then capitalizes on the not just difference in what they paid for the copper penny and current copper price, but also the inflated value over time of copper, since copper has a trend of outpacing inflation. Once it becomes legal to melt, trends suggest copper penny pricing will skyrocket.
In fact, copper pennies should sell over copper spot price (read How to Make Money off of Copper Pennies). This is because then not only do you have an investment in copper, but also an investment in copper that has an insurance plan where it will never be worth less than one cent.
---
These are just some of the reasons why you should buy copper pennies. There is tons of information on www.coincollectingenterprises.com for you to learn and absorb the many benefits of copper pennies. Feel welcome to contact us with any questions you may have. We highly recommend taking the time to learn more by browsing our FAQ on copper pennies.